Blog
We will be announcing some shows! Stay tuned.
Be sure to mark your calendars, Saturday June 11th @ Soulbelly BBQ (1327 S Main St.) w/ Mojave Sun and Mother Mercury. Your chance to to check out some of the the ladies of local Vegas scene! Show starts at 9p so get there early to have a drink with us! Get ahead of the game and get your tickets HERE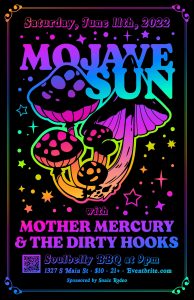 Hey everyone.  We are working hard on our new album as of now.  Just when we thought we had it ready to be mixed, we decided to throw on a couple more tracks.  This will set back the time on the release but it will be well worth it! We will keep you posted as we go. – The Dirty Hooks
Hope everyone had a fun and safe New Year!  Hopefully things calm down this year, fingers crossed.  Much love… – The Dirty Hooks
This Sunday Dec. 19th we will be playing Market in the Alley at Fergusons Downtown. Part of the mini two day festival, come enjoy over 60 local businesses and music from 12-5pm both Dec 18th/19th.  We hit the stage Sunday Dec 19th at 4pm and did we mention that it's FREE and ALL AGES?!  No excuse it's too late or too much!  Also, you can get your last minute shopping done.  Win win, see you there! More info in our "shows" tab.
Thank you to everyone who made it out to our Halloween Show.  You guys really upped your costume game!  Stay posted for our show in December.
We got a Halloween show coming your way!  Friday Oct. 29th, 8pm @ The Usual Place (DTLV) w/ Radical West and Partial Credit and your spooky self!  Tickets are available HERE!  Costumes are encouraged! 👻  See you soon!
We know we have been a little quiet buuuut we have been in the studio laying some new tracks!  If you go to Insta, FB or Twitter you will be able to see some snippets of what we have been up to.  Also, there will be a show announcement coming soon!  Thanks for being patient with us during this whole pandemic craziness!  Miss all of you! – The Dirty Hooks
The long overdue show! We play at Taverna Costera tomorrow Aug. 7th w/ The Implosions and Frankie Lee and the Infernos, 8pm. What's even better is that the show is outside on their rooftop deck and it's FREE! It's been too long and we hope to see you there. Click HERE for more info.
FREE SHOW ALERT! – Aug. 7th 2021
Long time no see but not for long!  We will be playing Taverna Costera's Grand Opening Event aaand playing on their rooftop deck on Saturday August 7th.  Joining us are The Implosions and Frankie Lee & The Infernos for a FREE SHOW.  Can't wait to finally see everyone.